Easter as we all know is the celebration of rebirth and renewal and of course new beginnings. Now nothing says 'new' as beautifully as a bunch of 'Dried Flowers'. And considering that Easter falls in Spring, it only makes sense to surround yourself and your loved ones with Easter Flowers. But it gets started with the Easter decorations, some of us may need a little inspiration. Hence we have curated a list of Easter Flower Arrangements and Home Décor Ideas. 
Easter Egg Corner
A must-have in Easter preparations, create a fun Easter Egg corner in your home. Start by adding big and small bowls, whichever you can find. For the eggs, use some colored markers to draw bunny-like faces on them; add some soft wire bunny ears for more details.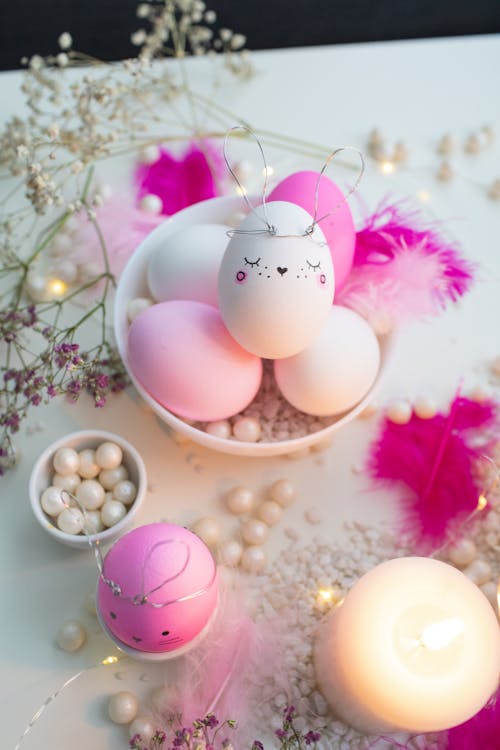 Now arrange the prepared eggs along with some pearls in the bowls as shown in the picture. To add final touches, sprinkle some bunches of Dried Gypsophila (Baby's Breath) and feathers all around the Easter arrangement. Enhance your setup with some Fairy lights and candles and you are good to go!
Easter Wreath
Sometimes it's the most simple ideas that are the most beautiful. Nothing can beat a lovely Easter Door Wreath. For this décor idea, you could opt for a bunch of different options such as flower wreath, grass wreath, egg wreath, etc. However Egg wreaths are super fun only until they are intact.
Instead, you could opt for Dried Wreaths typically made out of Dried Flowers, Preserved Flowers, Dried Grasses, and Foliage. Such wreaths are long-lasting, sustainable, and a great value for money. What's even better is that you can place the wreath on the front door, kitchen door, master bedroom, dining room, etc. wherever your heart desires.
Easter Table Décor
If you are planning to host Easter this year, some beautiful Easter floral arrangements can prove to be a game-changing element for you. To achieve a springtime fun vibe, opt for vibrant Easter Dried Flowers such as Dried Roses, Dried Peonies, African Repens, etc. For that extra something, feel free to add a bunny soft toy in the middle!
For a minimalist clean tablespace, opt for single stems such as Dried Oats or Dried Triticum (Wheat) in slim, narrow vases. Choose your favorite blooms to display for a personalized Easter floral arrangement. 
Send Easter flowers to Loved ones!
Some of us may not get the chance to gather with our near and dear ones this Easter, but that shouldn't fade the joy of this festivity. Let your family and friends know how much you miss and appreciate them with a surprise Easter Dried Flowers Delivery. Dried Flowers & Décor delivers across the UK a beautiful range of Dried Flowers, Dried Bouquets, Dried Pampas, Dried Palms, Décor Items, and much more. To find the perfect Easter Bouquet on our Flower shop right away!