Let's face it: despite our desire to fully embrace green living, not everyone has the time, energy, commitment, or know-how to keep green indoor plants alive. We simply cannot; our lives are far too complicated and hectic. However, this does not negate our dedication to making our homes more environmentally friendly. 
How about updating to the current darling of the moment – dried flowers? A hot Instagram trend and an established star on Pinterest home decor and wedding mood boards, dried flowers are enjoying a spectacular comeback in our living spaces after its glorious 1980s season.
The dried beauties are loved by lifestyle influencers, celebrities, interior designers, and decor enthusiasts for their low maintenance and long life.
Dried Blooms exude elegance and, of course, eco-friendliness. They require no water or sunlight. Their natural color variations are adaptable and easy to incorporate into any interior. 
Use the dried flower decor ideas below to spark your imagination and update your space in style and on a budget.
Dried flower coasters
For this DIY decor idea, you'll need a coaster (wooden, glass, or ceramic, any would do), epoxy resin, and tiny dried flowers. Dried Spray roses, hydrangea, and Dried leaves produced the finest outcomes. 
Place your coaster on wax paper, then arrange your dried flowers as desired (they will be permanently sealed). Mix your resin according to the package directions, then pour it over your coasters, completely coating them.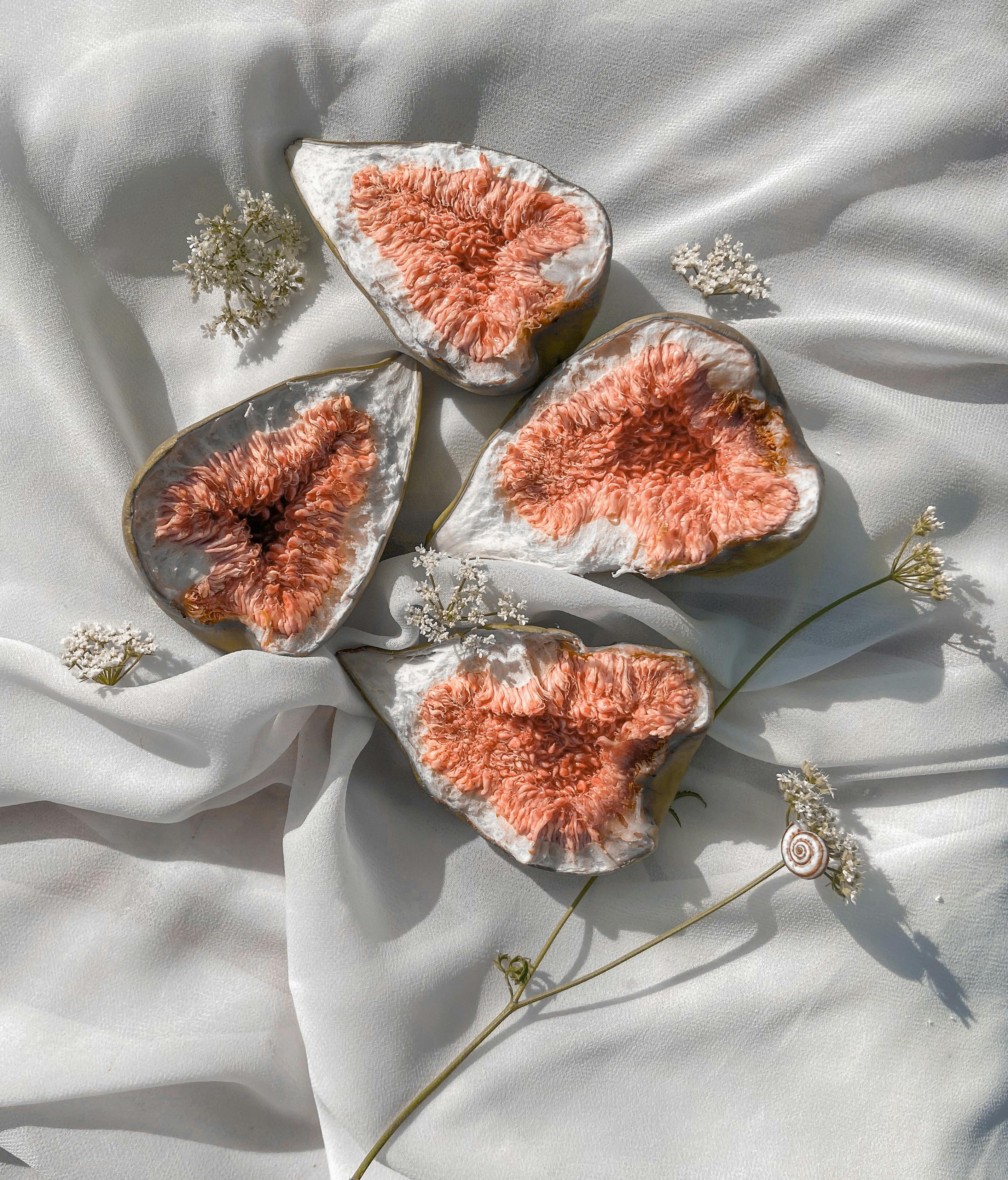 To avoid any buildup around the base, you may need to transfer the coasters to a new sheet before the resin hardens completely. Allow drying for 24-72 hours before using.
Dried flower bouquet arrangements
You can create a Dried Flower Bouquet as simple or as dramatic as you wish to. Start by getting some good-quality flowers that will last more than a year. A few popular choices are Dried Baby's Breath, Preserved Eucalyptus, Statice, Lunaria, Dried Munni Grass, Etc. 
Now select a medium-sized vase and insert a small piece of sponge in it to keep the flower intact in one shape. Start by adding the smaller stems in the center. Fill the surrounding space with Eucalytupus depending on how tall you want your Dried flower arrangement to be.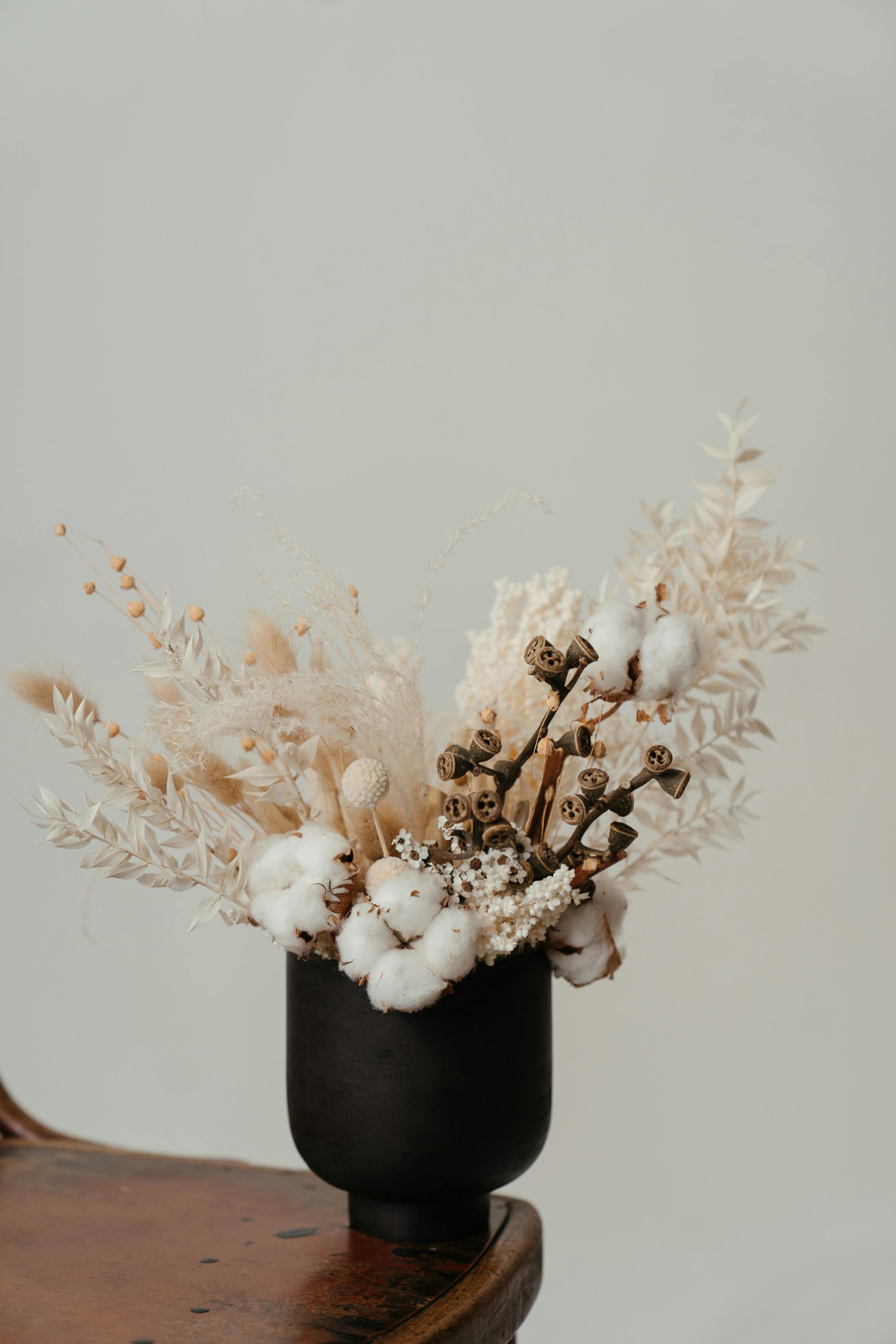 It's important to remember to mix up the blooms so that the effect isn't too uniform. In this arrangement, a little bit of randomness works well.
Finally, put the finishing touches on the item to make it stand out! Use dried wheat or Dried Cotton to finish the bouquet. Place them all throughout the arrangement, but not in the same place. Add a jute rope bow to the front if you're feeling extra fancy, and you've got yourself a lovely preserved floral arrangement!
Wall Art With Dried Flowers
Dry flowers are strung up and down strings like gorgeous garlands in this stunning wall decor. Perhaps the simplest Diy on our list, this gorgeous floral setup is easy to make and a great way to make any space feel more welcoming. Select flowers such as Dried Peonies, Dried Roses, Eucalyptus, Gypsophila, etc.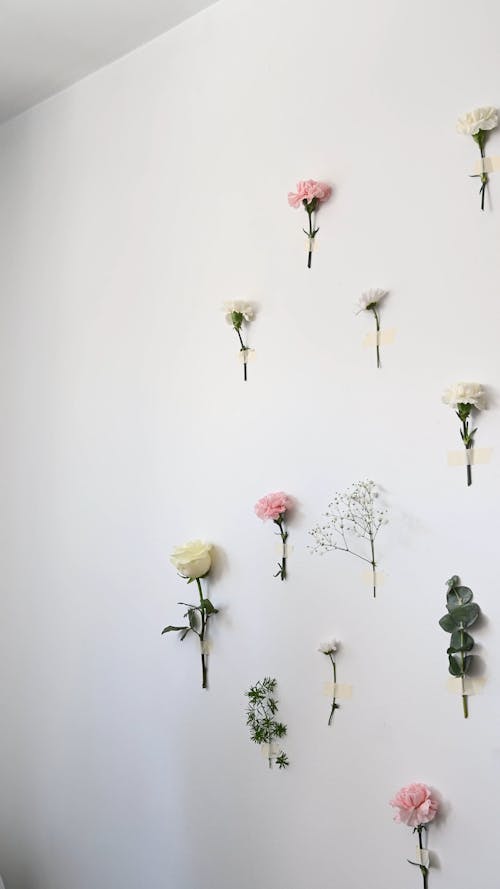 Map out which flower will go on which spot. A color palette of dark to light can be followed to create an ombre effect. Use clear tape to stick the preserved flowers to the wall. An efficient use of Dried Natural Flowers with zero added cost!
Create a
Statement

 Dried Flower wreath

Decorative wreaths aren't just for the holidays; they may also be used as year-round house accents. Whether you wish to DIY it or get a ready-made one, a gorgeously crafted dried wreath is a type of unique wall decor. 

The wreath is a great focal point similar to a metal wall art, or a wood wall art. An elegant dried flower wreath, paired with a beautiful console table, a few vases, coffee tables, and ornaments, will make a statement in the entryway

 
For this DIY Flower Arrangement choose some Dried Flowers that have a strong stem such as Spray Roses, Lavender, Baby's breath, Celosia, Statice, Globe Thistle, etc. To fill in gaps in wreaths, choose tough, strong plants with texture and visual interest.
You'll want to use plants and herbs like Amaranthus, Eucalyptus, Triticum, etc. Other supplies that you will need are Scissors, a Hot glue gun, and Floral wire.
Make a hanging loop out of floral wire and attach it to the wreath. Begin putting the dried flowers and foliage into the wreath of grapevine. You can use as many flowers as you want. To keep the flowers in place, use a hot glue gun as needed.
Where to Buy Dried Flowers Online in UK? 
Look no further than Dried Flowers and Décor if you're looking to buy high-quality dried flowers online in the UK. We are UK-based wholesalers of dried flowers. Dried Flowers, Dried Palms, Dried Pampas, Dried Wreaths, Statement Décor items, and much more are among our offerings.
Whether you need Dried flowers and Foilage for a Chic Dried Bouquet or wedding or home Décor arrangements, we have it all!