Dried flowers have been a popular decorative element for centuries, used in everything from wedding bouquets to home decor. But what are the advantages and disadvantages of using dried flowers? Are they better than fresh flowers? 
From cost-effectiveness to durability, let us talk about the benefits and drawbacks of dried flowers, as well as offer some tips for incorporating them into your decor. 
6 Advantages of Dried Flowers
Long-lasting
Dried flowers are flowers that last years, making them a great alternative to fresh flowers that only last for a few days. While some dried flowers last a few months, most of them last for at least a year. Dried flowers will not shrink or wither. Save dried flowers from your favourite moments, and keep those memories forever!
Versatile
Dried flowers can be used in a variety of ways, from home decor to crafting dried flower arrangements. They can be easily incorporated into dried flower wreaths, dried flower bouquets, and other decorative items. Some dried flowers are also malleable, so you can adjust them to your needs.
Low Maintenance
Unlike fresh flowers, dried flower care doesn't require any watering or maintenance, making them a great option for people who don't have a lot of time to devote to caring for plants. This is also helpful for event decor as you won't have to worry about taking care of all the flowers throughout the event!
Eco-friendly
Dried flowers are a sustainable and eco-friendly option because they don't require any additional resources to maintain once they are harvested. Take your first step towards a sustainable lifestyle by purchasing wholesale dried flowers and add beauty to your surroundings.
Cost-effective
Dried flowers are often less expensive than fresh flowers because they don't require the same level of care and attention during the growing and harvesting process. This makes them a great option for people who want to enjoy the beauty of flowers without breaking the bank. Pay less for long-lasting beauty in your homes.
All-year-round availability
Unlike fresh flowers, which can be found only during particular seasons, dried flowers are available all year round in the market. So, if you want an autumn event in the spring or a spring event in the autumn, dried flowers are the ideal option for you!
5 Disadvantages of Dried Flowers
Fragility
Dried flowers are often more fragile than fresh flowers and can break or crumble easily, which can make them difficult to handle or use in certain applications. This can pose an issue especially when using dried flowers for event decor since a lot of people will be there, making it harder to maintain the decorations.
Limited lifespan
While some dried flowers can last a long time with proper care, many have a relatively short lifespan and may begin to lose their color or texture over time, making them less visually appealing. There is no doubt that dried flowers last much longer than fresh flowers, however, they do have their own setbacks.
Lack of fragrance
Dried flowers do not have the same fresh, natural fragrance that fresh flowers do. While some dried flowers may retain a faint scent, it is typically not as strong as that of fresh flowers.
Potential for allergies
Some people may be allergic to certain types of dried flowers, particularly those that may have dyes or are preserved using chemicals. This can cause respiratory symptoms, skin irritation, or other allergic reactions in sensitive individuals. So, especially be careful if you already have an allergy that can cause irritation to you.
Fading
Over time, dried flowers may lose their vibrant colours and fade, particularly if they are exposed to direct sunlight or other sources of heat.
4 Ideas for Using Dried Flowers
Decorate your home
Dried flowers decorations can be a beautiful addition to any room. You can place a dried flower bouquet in a vase, hang them on the wall, or even create a dried flower wreath. Dried flowers add a touch of natural beauty to your homes. Additionally, you get cheap and sustainable home decor!
Make Potpourri
Dried flowers are perfect for making potpourri. Mix different types of dried flowers heads with essential oils and herbs to create a fragrant and decorative mix. This will not only add a fragrance to your room, but also an aesthetic touch.
Use as confetti
Dried flower petals can be used as an eco-friendly alternative to traditional confetti. They can be scattered at weddings, parties, or other special occasions. This can make your event look absolutely stunning, and you can also save some of these petals as memory from that event.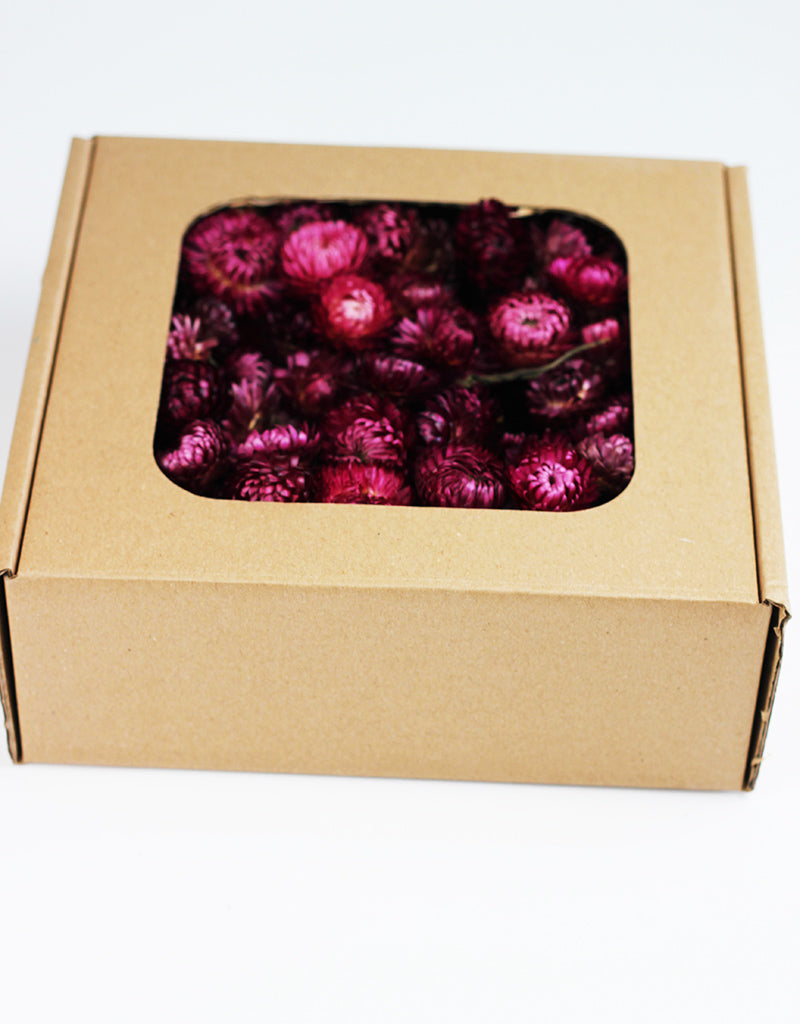 Make a sachet
Fill a small bag with dried flowers and preserved foliage and add a few drops of essential oils to create a fragrant sachet. These can be placed in drawers, closets, or even in your car.
Dried flowers have become a popular choice for home decor due to their versatility, longevity, and eco-friendliness. Unlike fresh flowers, dried flowers do not wilt or lose their colour, making them an excellent option for any occasion. Also, they are easier to transport, making them a practical choice. 
Some popular Dried Flowers that are available at Dried Flowers & Decor are dried achillea, dried ammi majus, dried peonies, dried acroclinium, dried amaranthus, and many more. Add beauty to your home, or any event, with everlasting dry flower decoration! 
Find out what best fits your needs and purchase those dried flowers now! You can create your own dried flower decor by mixing and matching different dried flowers.
As flower wholesalers, we believe in delivering high-quality dried beauties but not at hefty prices. Our Wholesale Dried Flowers will help you to achieve the home decor of your dreams while saving handsomely on your budget. 
Invest in your dried flower decor now! In case you have any queries or want to place a bulk order, feel free to contact us right away!